Suicide is more than a preventable tragedy—it is a major public health problem affecting men and women of all ages. According to the National Institute of Mental Health, it was the 10th leading cause of death in the U.S. in 2019. Among older adults in particular, suicide is a significant concern because while older adults include just 12% of the population, they make up approximately 18% of suicides. Among people who attempt suicide, one in four seniors will succeed, compared to 1 in 200 youths. In addition, men 65 and older face the highest overall rate of suicide.
Risk Factors
Suicidal behavior is common in older adults for several reasons, with loneliness at the top of the list. As we know, many seniors are homebound and live on their own. If their spouse has recently passed on and there are no family members or friends nearby, they may lack the social connections they need to thrive. Other reasons for suicidal intent in older adults include:
Grief over lost loved ones: Adults who live long enough may begin to lose cherished family members and friends to old age and illness. They may wrestle with their own mortality and experience anxiety about dying. For some, this "age of loss" is overwhelming and can intensify feelings of loneliness and hopelessness.
Loss of self-sufficiency: Seniors who were once able to dress themselves, drive, read, and lead an active life may grapple with a loss of identity. They may mourn the independent, vibrant person they once were.
Chronic illness and pain: Older adults are more likely to face illnesses and chronic disease such as arthritis, heart problems, high blood pressure, and diabetes. These conditions can bring on pain and mobility issues that compromise quality of life. Seniors may also experience loss of vision and other senses, such as hearing, making it harder to do the things they love.
Cognitive impairment: In a recent study, researchers found that older adults with mild cognitive impairment and dementia had a higher risk for suicide. Declines in cognitive function can affect a person's decision-making abilities and increase impulsivity.
Financial troubles: Older adults living on a fixed income may struggle to pay their bills or keep food on the table. For someone who is already struggling with health issues or grief, financial stress can be a trigger for suicidal thoughts.
The physical, emotional, and cognitive struggles faced by older adults can lead to feelings of depression, which over time can evolve into clinical depression. Clinical depression is a mood disorder characterized by prolonged feelings of sadness, hopelessness, and loss of interest in activities. While most people with clinical depression do not commit suicide, having major depression does increase the risk.

Ohio Choose Tomorrow
In addition to resources such as a crisis line, Buckeye has partnered with a Zero Suicide program called Ohio Choose Tomorrow™: A Zero Suicide Program to build a comprehensive suicide prevention culture within Centene that saves lives through early risk identification and collaborative member centric interventions. The foundational belief of Zero Suicide is that suicide deaths for individuals under the care of health and behavioral health systems are preventable.
When it comes to member safety, the most fundamental responsibility of health care, the only acceptable number of losses due to errors in quality of care is zero. Zero Suicide applies that life-saving mindset to preventing suicide. Studies have shown most people who died by suicide saw a health care provider in the year prior to their deaths. There is an opportunity for health care systems to make a real difference by transforming how patients are screened and the care they receive.
For more information on how to access resources for the Ohio Choose Tomorrow, please connect with one of our trained Behavioral Health Care Managers.
Warning Signs
An important first step in preventing suicide is knowing the warning signs. In addition to an explicit expression of suicidal intent, there are certain behaviors that can indicate an older adult is thinking about self-harm. These include:
Loss of interest in activities they used to enjoy
Giving away beloved items or changing their will
Avoiding social activities
Neglecting self-care, medical regimens, and grooming
Exhibiting a preoccupation with death
Lacking concern for personal safety
How to Help
If you think someone may be at risk for a suicide attempt, it is important to know that your support is critical to that person. The National Suicide Prevention Lifeline has outlined five action steps you can take if you know an older adult who has expressed or is exhibiting warning signs about suicide.
Ask. Don't be afraid to be direct with the person at risk. Ask questions like, "Are you thinking about suicide?" and "How can I help you?" to initiate a conversation in a supportive and unbiased way. Be sure to listen carefully to their answers and acknowledge their emotional pain. Help the person stay focused on all the reasons why they should want to keep living.
Be there. If you're able to, be physically present for the person to ease feelings of isolation and provide a sense of connectedness. If a face-to-face visit is not possible, be there for them via phone or video calls. Work with the individual to identify others who may be willing to lend their help. Be sure not to make any promises that you are unable to keep.
Keep them safe. Find out if the person has already made any attempts on their life. Do they have a specific plan or timing in mind? Do they have access to their planned method of self-harm? Learning the answers to these questions can help you understand whether this individual is in immediate danger. In general, the more detailed a person's suicide plan is, the higher their risk. Someone who is at imminent risk for suicide may require more intensive intervention. The National Suicide Prevention Lifeline (1-800-273-8255) can serve as a valuable resource for helping you determine the next steps.
Help them connect. If a senior in your life is thinking about suicide, it's important for them to establish support systems they can rely on now and in future moments of crisis. This includes suicide prevention hotlines such as the Lifeline, as well as resources available in their local community. Find out if the at-risk person is currently seeing a mental health counselor. If not, the Substance Abuse and Mental Health Services Administration (SAMHSA) offers a searchable, confidential directory of mental health providers across the U.S.
Follow up. Studies have shown that following up can reduce suicide-related deaths in high-risk populations. Once you've had an initial conversation with the vulnerable person and helped them establish a support network, make sure to check in. This can be done with a quick phone call, text message, or even a card. Ask if there is anything else you can do to help them get through this difficult time. The simple act of reaching out and showing you care can truly mean the difference between life and death.
Resource: National Council on Aging
---
September is Suicide Prevention Awareness Month
September is dedicated to raising awareness of suicide and shifting public perception, spreading hope and sharing vital information to people affected by suicide. The goal is to ensure individuals, friends and families have access to the resources they need to discuss suicide prevention and to seek help.
Suicidal thoughts and suicidality, like mental illness affects individuals regardless of age, race, gender or socio-economic status. Suicide is the second leading cause of death among individuals aged 10–34 and the 12th leading cause of death in the U.S.
What is suicide?
Suicide is when an individual harms themselves with the goal of ending their life, and they die as a result. A suicide attempt is when an individual harms themselves with the goal of ending their life, but does not die.
Warning signs that an individual may be at immediate risk for attempting suicide:
Talking about:

Wanting to die or wanting to kill themselves
Being a burden to others,
Feeling empty or hopeless or having no reason to live,

Withdrawing from friends and family, giving away possessions,
Saying goodbye to friends and family, putting affairs in order, acting impulsively or talking or thinking about death often.
If you or someone you know is suffering from suicidal thoughts or an untreated mental health issue, seek treatment immediately. Treatment for mental illness varies by diagnosis and individual. Treatment options can include medication, counseling, social support and education.
After years of advocacy and preparation, 988 is now available nationwide as the new number to contact for mental health, substance use and suicide crises.
988 is a simple, easy-to-remember way for people to get help. This new number will allow people to quickly connect with support during a crisis, 24/7, no matter where they live. When people call, text, or chat 988, they will be connected to trained counselors that are part of the existing Lifeline network. These trained counselors will listen, understand how their problems are affecting them, provide support, and connect them to resources if necessary. The previous Lifeline phone number (1-800-273-8255) will always remain available to people in emotional distress or suicidal crisis.
For more information on suicide, support or how to find treatment, visit National Alliance for Mental Illness (NAMI)'s website. Don't be afraid to reach out if you or someone you know needs help. Learning all you can about mental health is an important first step.
Peer Support Spotlight: Substance Use Disorders- Awareness, Facts, Screening Tools
In America, the disease of addiction was given the opportunity to hide in the shadows of moral responsibility, in a chasm of debate concerning its pathology. As the debate narrowed and the science exposed the medical nature of addiction and alcoholism; the next frontier of the healthcare system has appeared. This transformation is one that views the chronicity of the disease as a "hijacking" of the brain. Now that we have that information, our approaches reflect compassion concerning moral insight during the brains executive healing process.
It has been more than 275 years since the support of peers has been engaging in aiding families and individuals recover. In the 18th century the idea to have a recovered patient to stay and aid with care, sparked a revolution in healthcare. Today in America Peer Support has appeared in the healthcare system as a complement to services provided. The professionalization of Peer Recovery Specialist has supplied hope for many individuals and families. Recovery Management insight and networks are what Peer Recovery Specialist offer. The Recovery Capital Scale or the BARC-10 (Brief Assessment of Recovery Capital-10 questions), is a tool used by Recovery Community Organizations (RCO) to aid in building the long-term recovered life people are hoping for.
Source:
White, W. (2009). Executive summary. Peer-based addiction recovery support: History, theory, practice, and scientific evaluation. Counselor
---
Movement and The Impact on Health
The impact of exercise on health and wellbeing has been a topic of interest in public health for many years. According to the John W. Brick Mental Health Foundation's June 2021 report, "routinely moving our bodies is a key element in the ecosystem of factors that help us to build our mental and emotional well-being" and "motion is indisputably associated with mental health benefits."
Benefits of routine exercise include:
Physical: Improves sleep; weight management; strengthens bones and muscles; can help prevent illnesses such as cancer, diabetes, and heart disease
Mental: Improves cognitive functions like memory and recall; reduces depressive and anxiety symptoms; improves overall mood
Quality of Life: Increases life satisfaction; reduces feelings of stress; increases self esteem
Top 3 exercise types: General physical activity; Aerobic; Mindfulness activities like yoga. The greatest benefits of physical activity have been found to be moderate to intense activity performed 3-5 days per week.
How does Buckeye Health Plan support physical activity with our members?
Buckeye values the benefits that exercise can have for our members and offers different tools to support members in starting and maintaining an exercise regimen.
Buckeye Community Connect: Via this search portal, providers and members can search and connect to various programs, including exercise and fitness resources, by simply entering any zip code.
Wellframe: This free app allows adult Buckeye members to engage digitally with a Buckeye care manager and participate in wellness programs.

Physical Activity Program: a 67-day program providing education and support, including information on nutrition and the benefits of exercise. Daily tasks and reminders are sent to members to engage them towards their personal movement goals.
Stress Management Program: a 25-day program that focuses on the development of new skills to manage stress. Topics include basic stress education, mindfulness, and deep breathing. This program also reviews the role of nutrition and exercise in improving stress levels.
Weight Loss Program: a 90-day program focusing on education and support for improving eating habits, nutrition, and physical activity. Encourages users to set regular goals for diet and exercise. The app can be downloaded through the App Store or Google Play or via Buckeye's website.

MyStrength: Free app provides members with access to education and information on many health and wellness topics. The app is available via the Apple or Google stores or myStrength.com.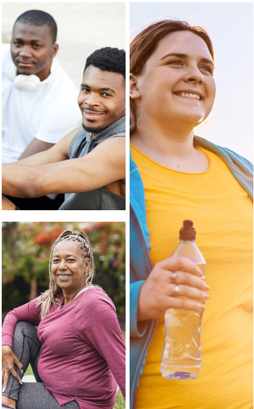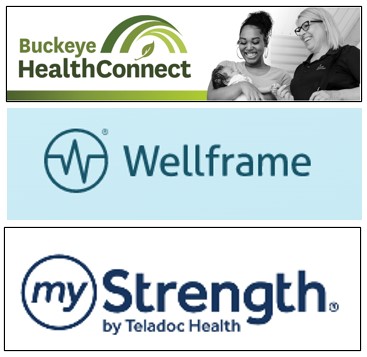 We hope you find these resources helpful and that you will encourage your Buckeye patients to explore these and find tools to help them incorporate exercise as a regular part of their routine. Buckeye Member Services can provide additional information on any of the above resources. Member Services Representatives can be reached at 1-866-246-4358 Monday-Friday from 8am-5pm.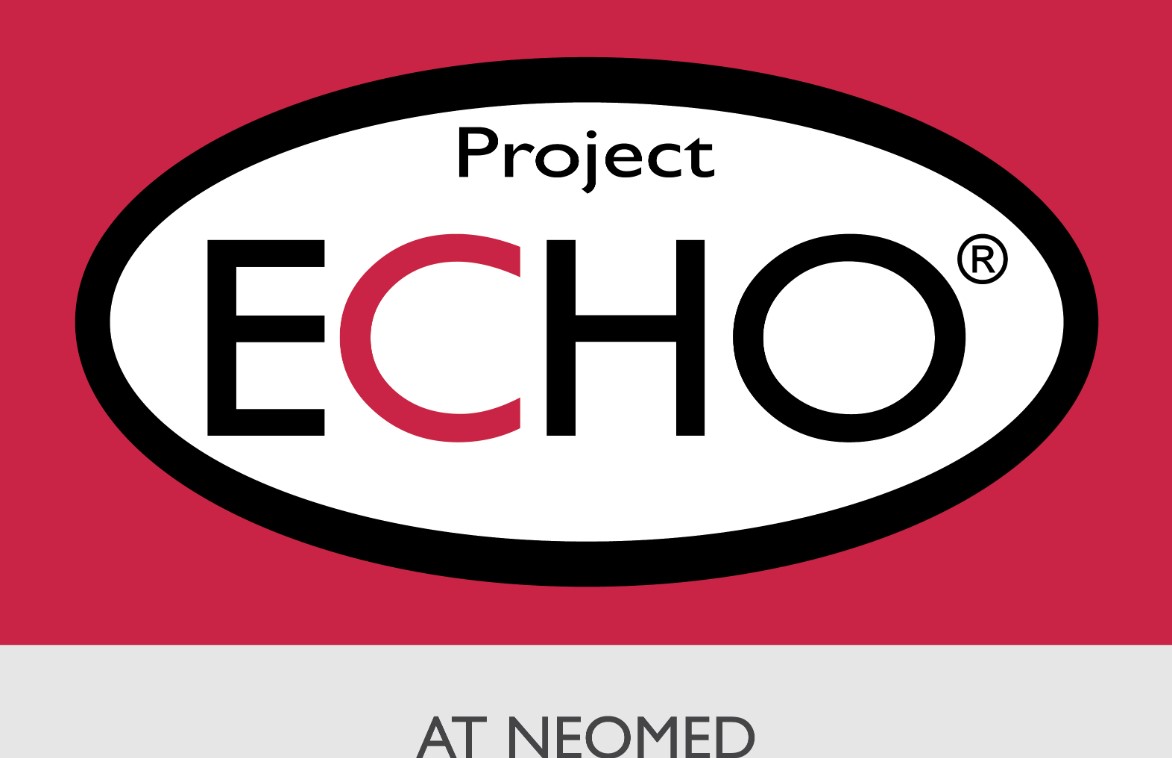 In celebration of May Mental Health Awareness Month, we want to introduce you to: Ohio Systems of Care Project ECHO for Multi-System Youth.
Project ECHO (Extension for Community Healthcare Outcomes) is a popular model for improving patient outcomes through provider education and collaboration.
Inspired by the way clinicians learn from medical rounds during residencies, the ECHO Model has evolved into a learning framework that applies across disciplines for sustainable and profound change. They call it "all teach, all learn."
ECHO participants engage in a virtual community with their peers where they share support, guidance, and feedback. As a result, our collective understanding of how to disseminate and implement best practices across diverse disciplines continuously improves and expands
Project ECHO uses a 'learning loop' approach; specialist teams and local providers learn from each other by collaboratively problem-solving real-time experiences and sharing best practice via video-conferencing. ECHO's aim is to enhance decision making and transform service delivery.
Using a trademarked technological platform and methodology developed at the University of New Mexico, Ohio Systems of Care Project ECHO for Multi-System Youth program offers participants:
Opportunities to present complex cases and to receive written recommendations from multidisciplinary experts
Opportunities to develop the knowledge and skills to manage complex needs in their own communities and to be part of a community of practice
Brief lectures and case-based learning on topics of special interest
Multi-System Youth Toolkit
Our team at Ohio Colleges of Medicine Government Resource Center has compiled a Multi-System Youth Toolkit, which can be accessed here: https://grc.osu.edu/Projects/SOC-MSY-ECHO.
Systems of Care Project ECHO for Multi-System Youth - Case Referral, Presentation and Recommendations Process
Family and Children First Council (FCFC) coordinators may refer a case for consultation during a Systems of Care Project ECHO for Multi-System Youth session to the Family and Children First Regional Liaisons, Aimee.Matusik@jfs.ohio.gov 
and Jennie.Horner@jfs.ohio.gov)
Evaluation Summary
The FCF Regional Liaison will triage referrals and request that the FCF coordinator complete an ECHO case presentation form for the case selected for presentation. (Click here to download form.) The FCF coordinator contacts SystemofCareECHO@neomed.edu for information about a secure pathway for sharing the case information with the SOC ECHO experts. Individuals are welcome and encouraged to attend all ECHO sessions, not just those at which they are presenting a case.
For more details and current/archived Program Schedules see Ohio System of Care Project ECHO Schedule.
On July 1, OhioRISE will begin to provide coordination and specialized services to help children and youth with behavioral health needs who receive care across multiple systems.
Buckeye Partners with Community Mental Health Centers for Enhanced Care Management Program
Buckeye will soon launch a new program, BuckeyeSpectrum, designed to enhance treatment of Schizophrenia Spectrum Disorders for its members. BuckeyeSpectrum is a first of its kind, collaborative program with partnership between Buckeye and community mental health providers. Buckeye has partnered with community mental health centers that use current evidence-based best practices for the treatment of schizophrenia spectrum disorders. These treatment modalities include interventions designed for implementation with first episode psychosis and interventions designed for ongoing schizophrenia.
Combined therapies to target all areas affected by schizophrenia
In recent years, research has revealed effective methods for addressing all symptoms of schizophrenia spectrum disorders. First line treatment for schizophrenia has typically been administration of antipsychotic medications. While great strides have been made in the formulation of new medications to treat schizophrenia, these medications do little to address the negative symptoms (lack of motivation, lack of reported enjoyment of and quality of life, difficulty interacting socially) or cognitive dysfunction (difficulty with memory, executive function, attention) present in individuals with diagnoses of schizophrenia spectrum disorders. Research into and application of combined therapies to target all areas affected by schizophrenia has shown improved positive outcomes for individuals who live with schizophrenia.

Collaboration with community health centers
Buckeye has developed methods for working collaboratively with community mental health centers to enhance the therapeutic work that can be done with clients to improve their overall quality of and enjoyment of life. These community agencies are already utilizing the most recent evidence-based treatment methods in their work with individuals with diagnoses of schizophrenia.
BuckeyeSpectrum provides:
regular communication and collaboration with the clinical treatment team for clients affected by schizophrenia
the ability for clinicians at mental health centers to access consultation with entities such as Project ECHO without losing revenue from a client session or psychiatry appointment that would have taken place during the time of the consult.

the ability to contribute to work those clients are doing related to development of social skills and improved quality of life.
the ability for clients to have opportunities to participate in activities that allow them to practice social skills and allow them to experience an increased level of enjoyment in their day-to-day lives. The activities individuals with a diagnosis of schizophrenia can engage in as participants in BuckeyeSpectrum give them opportunities to employ the skills they are working on related to cognitive enhancement, memory and attention.
the program will allow individuals' treatment teams to assist in meeting basic social determinants of health needs that might be present for those individuals. The reduction of stress presented by financial, social, education, health care, and neighborhood conditions will allow individuals to focus on improvement of cognitive, social and employment skills without the barriers of social determinants of health challenges.

BuckeyeSpectrum is designed to enhance the ability of our community partners and our members to experience the best quality care for schizophrenia spectrum disorders.  By enhancing collaboration with community mental health clinicians, we provide high quality, state of the art, fully inclusive care to individuals with diagnoses of schizophrenia spectrum disorders. 
Behavioral Health Readmission Policy
Effective November 18, 2021, the Managed Care Entity (MCE) members of the Ohio Association of Health Plans (OAHP) received approval from the Ohio Department of Medicaid, to implement a single MCE standard 30-Day Behavioral Health Readmission Policy and associated claims and clinical review programing.
Readmission Recoupment Policy (PDF)
Background
Effective November 18, 2021, the Managed Care Entity (MCE) members of the Ohio Association of Health Plans (OAHP) received approval from the Ohio Department of Medicaid, to implement a single MCE standard 30-Day Behavioral Health Readmission Policy and associated claims and clinical review programing.
Summary
The policy and the associated claims and clinical review program reviews all qualifying behavioral health readmissions occurring within 30 days to determine if the readmission was a preventable clinically related readmission. The policy articulates the quality and documentation expectations for the roles and responsibilities of various entities involved in the treatment and discharge planning of an individual with a behavioral health concern who requires hospitalization.
Please note the following highlights from policy revisions:
Reviews will be limited to readmissions to same facility as initial admission;
Pertinent and complete medical records for both admissions must be included with the claim submission to determine if the admission(s) is appropriate or is considered a preventable clinically related readmission;
Failure to provide complete medical records for a post-service clinical readmission review will result in an automatic administrative denial of the claim for the readmission
Prior Authorization processes and determinations are separate from any readmission review processes and determinations.
Impact
Payments for readmissions determined to be a preventable clinically related readmission will be adjusted to collapse the admissions into a single DRG payment.
Questions
To review the full policy, including policy effective date, for each MCE, and for any questions, please navigate to the appropriate MCE's policy website and/or outreach to the MCE's Provider Service's Department.
Behavioral Health Resources