Behavioral Health Education
Buckeye cares about the wellbeing of the communities we serve. Behavioral health is just as important as physical health and creating awareness is a priority. When members face behavioral health challenges, Buckeye offers support and programs to help. We address conditions like anxiety, depression, schizophrenia, substance abuse and more. Our case managers partner with providers to coordinate care, treatment and services, including hospitalization. Our network of medical professionals can provide the full range of therapies, counseling and treatment. Buckeye supports our members on every step of their journey.
Senior Mental Health
Mental illness impacts individuals throughout their lifespan but there are unique factors impacting mental health and the senior population. These factors include increase risk of isolation, feelings one doesn't belong, chronic medical conditions and pain, loss of self-sufficiency, feeling like a burden, grief over lost loved ones, cognitive impairment, and financial troubles. The most common mental illness seen with the elderly is depression.
In addition to depression, suicide is a significant concern because while older adults include just 12% of the population, they make up approximately 18% of suicides according to the National Institute of Mental Health.  Men 75 and older face the highest overall rate of suicide.
Providing support and linking to resources are ways to help older adults at risk of suicide. Advocacy is also needed to ensure older adults have access to needed services. One is example is need for Medicare to recognize licensed mental health counselors and licensed family therapists to increase older adult access to mental health care.
Substance use disorders impact nearly 1 million adults age 65 and over as reported in 2018 data from SAMSHA. The number of older adults admitted to Substance Use Disorder treatment facilities between 2000 and 2012 increased from 3.4% to 7% during this time per the National Institute on Drug Abuse. Due to increase chromic health conditions with aging, older adults are more likely to be precribed potentially addictive medications. Older adults also may metabolize medications differently. Many behavioral therapies and medications have proven effective  in treating substance use disorders, including in the older adult population.  (Source: National Institute on Drug Abuse; National Institutes of Health; U.S. Department of Health and Human Services.)
Resources:
Suicide & Crisis Hotline- Call or text 988 or chat available on 988 Life Line website
Buckeye Health Plan has contracted with an array of behavioral health and substance abuse providers. Members can access Behavioral Health Providers, including metal health professionals and inpatient and outpatient treatment for mental health and addictions, using the Find a Doctor or Pharmacy feature on the For Members page of our website.
References:
National Council on Aging - 988 answering the call lfor stronger suicide prevention efforts

National Council on Aging - how to respond to suicide risk in older adults.  
SUD Support and Services
Many individuals struggle with alcohol and other substance abuse disorders (SUD) that may lead to, or cause, barriers to continuity of care. There is said to be a higher emergency department (ED) rate in those over age 12, that use substances compared to those who do not use substances. Seven and 30-day follow up for ED visits for SUD has shown effective in reducing the frequency of future ED visits, substance use, and inpatient hospitalizations (IP).
Here at Buckeye Health Plan, we offer Behavioral Health support to assist members with struggling with SUD through behavioral health case management, health care benefits that offer SUD interventions and coverage for treatment, and various programs. Buckeye case management is a great way to get the member engaged and assist the member with the necessary resources and tools to be successful in their care. Case managers can collaborate with IP facilities, community case managers, providers, family, etc. to ensure that member has supports in place. Buckeye benefits for SUD provides our members with the assurance that their follow up care and behavioral health providers will be covered. A few programs aside from case management that may support members with barriers to care are the cell phone program where members are provided a cell phone to be able to communicate with their providers and free transportation to assist members with traveling to their scheduled care, and follow up care, appointments. 
Resources:

June is PRIDE month
The tobacco industry has a well-documented history of targeting the LGBTQ+ community, and research has shown that lesbian, gay, and bisexual youth use tobacco products at higher rates than their heterosexual peers. Quitting vaping is hard and it's important to understand how to help those who might want to quit, but don't know how or where to start. Take action this PRIDE Month: reach out to a young person in your life and talk to them about vaping.  As a parent or caregiver to a teen or young adult, you can access free support with advice for talking with a young person quitting nicotine and a community of adults experiencing the same thing. Register for free at BecomeAnEX.org. 
If you know a young person who is trying to quit vaping nicotine, there are free resources for them, too! This is Quitting is a free and anonymous text message quit program – anyone can text BUCKEYE to 88709 for daily messages and science-backed tools for quitting and staying quit. The program is already helping more than 580,000 young people on their journey to quit. 

Summer break brings a lot of changes for young children and teens. While some children will want to spend that time at home others may need that structure and engagement throughout the summer. While summer creates additional opportunities for engagement with kids it can also create additional strain for children requiring structure in their day. There are many low-cost programs available to help support engagement for school age children during the summer months. Below are programs within Ohio offering summer programs and resources such as food programs.
Boys and Girls Club of America 
Ohio summer food service program 
May is Mental Health Awareness Month and Buckeye Health is aiming to raise the collective mental health IQ in our communities to help reduce fear, shame and stigma that is often associated with mental illness.
The Centers for Disease Control and Prevention defines mental health as our emotional, psychological, and social well-being. It affects how we think, feel, and act. It also helps determine how we handle stress, relate to others and make healthy choices. Mental health is important at every stage of life, from childhood and adolescence through adulthood (2021).
The National Alliance for Mental Illness (NAMI) finds that mental health issues can be caused by a variety of factors, including:
Family history of mental illnesses
Traumatic life experiences
Brain chemistry and functioning
Genetic factors
Social factors such as economic depression     
Nearly 21% U.S. adults and 17% of youth experience a mental illness each year yet less than half of those actually get treatment (NAMI, 2023).  Even more so, the average delay between symptom onset and treatment is 11 years.  The annual prevalence rates for the most common mental illnesses are as follows:
19% Anxiety Disorders
8% Depression
8% Co-occurring Substance Use Disorder and Mental Illness
4% Post-traumatic Stress Disorder
3% Bipolar Disorder
1% Borderline Personality Disorder
1% Obsessive Compulsive Disorder
1% Schizophrenia
Sadly, despite technical and medical advances in health care, mental health disorders remain largely stigmatized and socially taboo (Rean Foundation, 2022).  A study by NAMI (2023) found that only 47% of adults and 51% of youth seek care each year for their mental health conditions, despite various treatment options being available.  Increased mental health awareness is key to breaking stigma and assisting with getting people connected to care.  Some efforts we can take as health care professionals to improve mental health awareness include:
Openly discussing mental health and sharing your own experiences and encouraging others to speak out will help them get needed care.
Shedding light on the signs and symptoms of mental illness and how to assist others if they are diagnosed.  Some of the warning signs may include:

Unexplained mood swings
Changes in eating or sleeping patterns
Inexplicable feelings of sadness

Checking in with your mental health and getting routine screenings with your health care provider.
Volunteering at local mental health awareness programs and promoting events to help raise awareness.
Adopting a holistic approach to helping and informing others on the importance of self-love and self-care.
To learn more about mental health and what you can do to support, please check out the following organizational websites:
NAMI: https://www.nami.org/home
SAMHSA: https://www.samhsa.gov/
NIMH: https://www.nimh.nih.gov/
Ohio MHAS: https://mha.ohio.gov/
Buckeye Partners with 'This Is Quitting' to Combat Teen Vaping
E-cigarettes have become the most common form of tobacco products for middle and high school students in Ohio. A recent study found that 11.9% of middle school and 29.0% of high school students use e-cigarettes. To combat the growing trend, Buckeye has partnered with This is Quitting to provide a free, app-based support tool for youth to quit.
Vaping nicotine can amplify feelings of depression and anxiety and increase stress. Nicotine also harms developing brains, and can make young people more susceptible to addiction. Quitting is hard and it's important to understand how to help those who might want to quit, but don't know how or where to start.  As a parent or caregiver to a teen or young adult, you can access free support with advice for talking with a young person quitting vaping and a community of adults experiencing the same thing. Register for free at BecomeAnEX.org.
If you have a young person patient who could use some extra help in quitting vaping, there are free resources for them, too! This is Quitting is a free and anonymous text message quit program –anyone can text BUCKEYE to 88709 for daily messages and science-backed tools for quitting and staying quit. The program is already helping more than 580,000 young people on their journey to quit. 
April is National Stress Awareness Month, an observance that has been in place since 1992. Stress can be thought of as physical, emotional, or mental strain or tension. Often all three of these types of strain occur simultaneously.
Recently, stress has been a focus when considering the well-being of individuals. People are reporting increased stress due to changing workplaces, evolving work practices, changes in the world related to our climate, the recent pandemic, and unrest across the globe. It is important to be aware of stressors in our daily lives, as stress, over time, can affect our health. For instance, you may experience stress if you have things going on in your life, such as being under lots of pressure, facing big changes, or not having much or any control over the outcome of a situation. You may also be experiencing having responsibilities that you find overwhelming, or not having enough work to make ends meet and provide you with a sense of purpose.
Another definite stressor is experiencing discrimination, hate, or abuse, which is on the rise for many groups of people at this time. All people respond differently to stress, and this can be due to each person's body reacting differently to stressful situations. Factors to consider include genetic background, personality or temperament, biological age and the capacity to cope with stress.
The good news is that people can learn strategies for managing stress in a healthy way. The National Institute of Mental Health suggests techniques such as keeping and writing in a journal, learning to be mindful and stay "in the here and now", making sure to get healthy nutrition each day, get exercise, and get enough sleep each night.  For more information on and tips for managing stress, visit the NIMH tip sheet below, "I'm So Stressed Out!":
https://www.nimh.nih.gov/sites/default/files/documents/health/publications/so-stressed-out-fact-sheet/Im-So-Stressed-Out.pdf
A Brief on HEDIS measure FUH: Follow-up after Hospitalization for Mental Illness
Healthcare Effectiveness Data and Information Set (HEDIS) is one of healthcare's most widely used performance improvement tools. These measures help set a benchmark for American healthcare consumers to review when choosing providers. Follow-Up After Hospitalization for Mental Illness (FUH) assesses the percentage of inpatient discharges for a diagnosis of mental illness or intentional self-harm among patients aged 6 years and older that resulted in follow-up care with a mental health provider within 7 and 30 days.
In 2019, nearly one in five adults aged 18 and older in the U.S. had a diagnosed mental health disorder.1 Despite this, individuals hospitalized for mental health disorders often do not receive adequate follow-up care. Providing follow-up care to patients after psychiatric hospitalization can improve patient outcomes, decrease the likelihood of re-hospitalization and the overall cost of outpatient care.2,3,4
HEDIS® Improvement Tips:
Schedule member's 7-day or 30-day follow-up appointment prior to the member being discharged from the hospital.
Maintain appointment availability in your office for patients with recent hospital discharges.
Complete appointment reminder calls 24-hours prior to the scheduled follow-up appointment.
References
Substance Abuse and Mental Health Services Administration (SAMHSA). (2020). Key Substance Use and Mental Health Indicators in the United States: Results from the 2019 National Survey on Drug Use and Health (NSDUH). Retrieved from: https://www.samhsa.gov/data/sites/default/files/reports/rpt29393/2019NSDUHFFRPDFWHTML/2019NSDU HFFR1PDFW090120.pdf
Barekatain M, Maracy MR, Rajabi F, Baratian H. (2014). Aftercare services for patients with severe mental disorder: A randomized controlled trial. J Res Med Sci. 19(3):240-5.
Luxton DD, June JD, Comtois KA. (2013). Can post-discharge follow-up contacts prevent suicide and suicidal behavior? A review of the evidence. Crisis. 34(1):32-41. doi: 10.1027/0227-5910/a000158.
Glazer, W. (2010). Tackling adherence in the real world. Behavioral Healthcare, 30(3), 28-30.
What Do Social Isolation and Loneliness Mean?
According to the ​​English Longitudinal Study of Ageing, social isolation and loneliness have specific definitions. 
Social isolation: refers to the general and often broad absence of contact with other people.
Loneliness: the perceived subjective feeling of being lonely. 
In the study, researchers coined a helpful phrase for understanding these two concepts: 
"Isolation is being by yourself. Loneliness is not liking it." 
You can read more at Science of People.com
How to Recognize If Your Loved One is Feeling Lonely
Withdrawal from daily activities
Decreased participation in ADL's/hygiene
Unexplained tiredness/over sleeping
Avoidance of meals/over eating
Irritability
Change in mood or affect
Lack of motivation
Apathetic attitude
Health Risks of Loneliness
Although it's hard to measure social isolation and loneliness precisely, there is strong evidence that many adults aged 50 and older are socially isolated or lonely in ways that put their health at risk. Recent studies found that:
Social isolation significantly increased a person's risk of premature death from all causes, a risk that may rival those of smoking, obesity, and physical inactivity.
Social isolation was associated with about a 50% increased risk of dementia.
Poor social relationships (characterized by social isolation or loneliness) was associated with a 29% increased risk of heart disease and a 32% increased risk of stroke.
Loneliness was associated with higher rates of depression, anxiety, and suicide.
Loneliness among heart failure patients was associated with a nearly 4 times increased risk of death, 68% increased risk of hospitalization, and 57% increased risk of emergency department visits.
Immigrant, LGBT People Are at Higher Risk
A report from the National Academies of Sciences, Engineering, and Medicine (NASEM) highlights loneliness among vulnerable older adults, including immigrants; lesbian, gay, bisexual, and transgender (LGBT) populations; minorities; and victims of elder abuse. It also points out that the literature base for these populations is sparse and more research is needed to determine risks, impacts, and appropriate actions needed.
Current research suggests that immigrant and lesbian, gay, bisexual populations experience loneliness more often than other groups. Latino immigrants, for example, "have fewer social ties and lower levels of social integration than US-born Latinos." First-generation immigrants experience stressors that can increase their social isolation, such as language barriers, differences in community, family dynamics, and new relationships that lack depth or history, the report states. Similarly, gay, lesbian, and bisexual populations tend to have more loneliness than their heterosexual peers because of stigma, discrimination, and barriers to care.
How to Improve Loneliness: Questions to Ask
Talk through the concerns with your loved one/yourself
Do you feel like you are not getting out enough? 
Are you worried/anxious about leaving the house? 
Is there something that you can identify that is causing you to feel lonely?
Do you feel connected to the people you interact with? 
Are you feeling fulfilled with your daily life?
Source: CDC.Gov
Learn about Buckeye Peer Recovery Services 
Peer Supporters
Peer supporters are individuals who have a personal history of mental health or substance use disorder and have been successful in managing their symptoms and maintaining health stability. These individuals serve as non-judgmental supports to others with a mental health or substance use diagnosis and help them along their recovery path. A key element to peer work is the relationship formed between the two peers who share lived experience.
Peer Recovery Services
Peer Support is a Medicaid covered service in the state of Ohio. Peer Recovery Services are provided in many ways and settings including telephonic, face to face, individual and group contexts. Peers often meet in the community and can be essential to building a support network, implementing effective coping strategies, finding resources, advocacy, and relapse prevention. Peer led, peer run organizations known as Recovery Community Organizations (RCO's) and Clubhouses are common. These locations provide safe environments free of judgment yet full of support and resources.
Benefits for Buckeye Members
Because Peer Specialists focus on individual strengths and assets, they can help Buckeye members view their challenges as opportunities rather than defeats or failures. Empathy is at the core of this service, and it embodies the Buckeye way of "leading with heart." The Buckeye Behavioral Health team has a recovery practitioner on staff, David Nalls. He is an integral part of the recovery community in Ohio and is part of the team currently writing the Ohio Peer Recovery Support Manual. He is an incredible asset to our team and can provide additional information and answer questions.
How to Refer
If you are working with a Buckeye member who you believe may benefit from peer recovery services, we would be happy to help with linking the member to services. Please call Buckeye Provider Services at 1-866-296-8731. Our Provider Services team will assist with facilitating the referrals to our Behavioral Health care management team to assist with getting services established for Buckeye Members.  
References:
"Peers" April 26, 2022. Substance Abuse and Mental Health Services Administration. Retrieved electronically on July 15, 2022. 
"Peer Support Recovery is the Future of Behavioral Health" October 28, 2021. Substance Abuse and Mental Health Services Administration. Retrieved electronically on July 24, 2022. 
Thrive Peer Recovery Services
"I am so happy that Buckeye connected me with you so I can have support from someone that has been there." "I couldn't believe that you remembered to call me this week now that I am in treatment, thank you Debra, Thrive and Buckeye. I need this right now." – H.R.
As part of Buckeye's vision to transform the health of our community, one person at a time, Buckeye Health Plan aims to manage the most complex, vulnerable members which include members with chronic mental health and substance use disorders. Annually, this subset of our population accounts for nearly 36% of the membership. According to the National Alliance on Mental Illness, nationally, nearly 40% of the population that has a mental health or substance use disorder does not seek care due to fear, shame and stigma (2021). To help combat this trend, Buckeye has partnered with Thrive Peer Recovery Services (Thrive) to better serve our most vulnerable members. The partnership utilizes mental health and substance use disorder peer support specialists to function as care extenders and engage members into treatment. Peer supports are individuals that have experienced success in their own recovery and serve to help others, through "lived with" experience.  The peer supporters participate in key activities designed to initiate and maintain recovery with our members, including advocacy, resource sharing, skill building, mentoring, and engaging community partners.  The peer supporters assist with decreasing stigma through shared understanding, mutual respect, and empowering members.
Buckeye's partnership with Thrive provides a centralized dedicated peer support specialist that connects to our members through referrals and real-time warm transfers from Buckeye's Care Management Team. Through the dedicated peer supporter, the program has realized nearly three times the successful engagement rate with the population at 38% compared to traditional care management outreach efforts. Since the program launched in 2022, over 300 members have been referred to Thrive with over 500 face-t- face visits completed.  Successful outcomes with the program include attaining the 95th percentile for the National Committee for Quality Assurance (NCQA) Health Education Data Information Set (HEDIS) rates for the Initiation and Engagement (IET) of Treatment for Substance Use Disorder measures.  Additionally, the program has closed over 300 critical social determinant of health gaps for the members enrolled, with top 5 including mental health services, financial instability, food insecurity, housing, and employment.  Buckeye plans to expand the Thrive program and partner with local emergency departments and psychiatric hospitals to establish onsite presence in the facilities and engage with members in acute care settings.  After receiving peer support services through Thrive, one member shared "I am so happy that Buckeye connected me with you so I can have support from someone that has been there." "I couldn't believe that you remembered to call me this week now that I am in treatment, thank you Debra, Thrive and Buckeye. I need this right now." – H.R.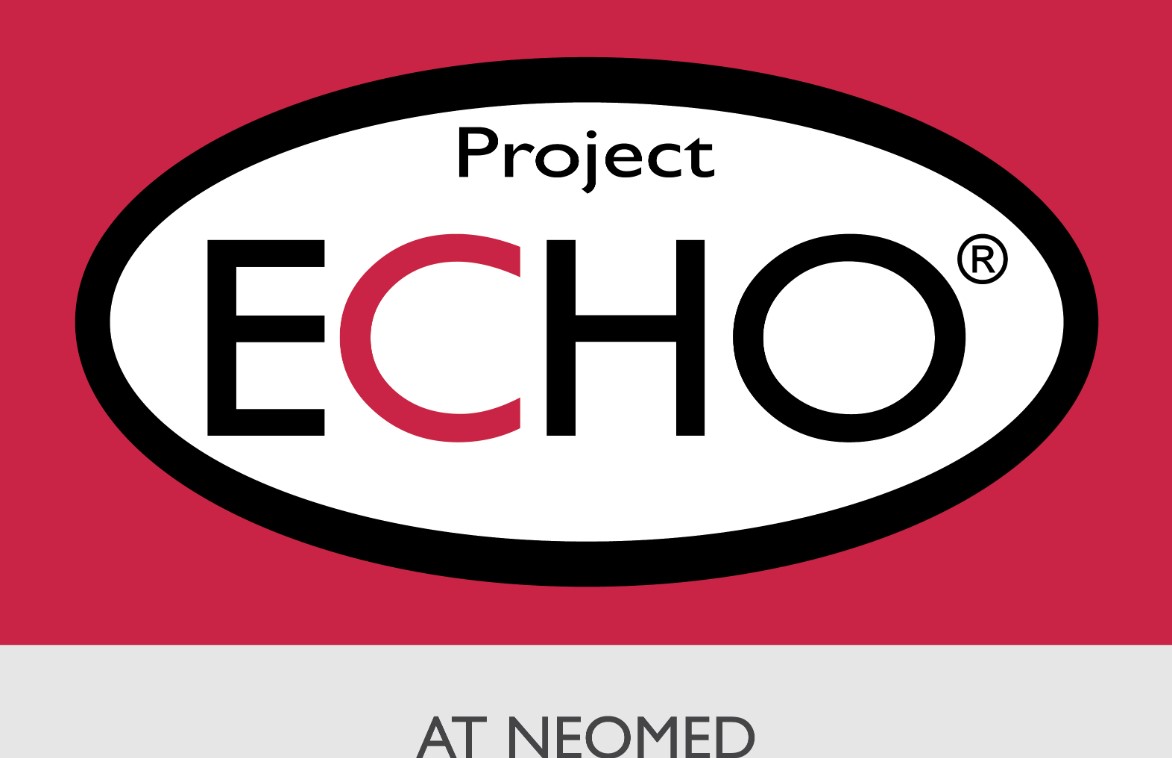 In celebration of May Mental Health Awareness Month, we want to introduce you to: Ohio Systems of Care Project ECHO for Multi-System Youth.
Project ECHO (Extension for Community Healthcare Outcomes) is a popular model for improving patient outcomes through provider education and collaboration.
Inspired by the way clinicians learn from medical rounds during residencies, the ECHO Model has evolved into a learning framework that applies across disciplines for sustainable and profound change. They call it "all teach, all learn."
ECHO participants engage in a virtual community with their peers where they share support, guidance, and feedback. As a result, our collective understanding of how to disseminate and implement best practices across diverse disciplines continuously improves and expands
Project ECHO uses a 'learning loop' approach; specialist teams and local providers learn from each other by collaboratively problem-solving real-time experiences and sharing best practice via video-conferencing. ECHO's aim is to enhance decision making and transform service delivery.
Using a trademarked technological platform and methodology developed at the University of New Mexico, Ohio Systems of Care Project ECHO for Multi-System Youth program offers participants:
Opportunities to present complex cases and to receive written recommendations from multidisciplinary experts
Opportunities to develop the knowledge and skills to manage complex needs in their own communities and to be part of a community of practice
Brief lectures and case-based learning on topics of special interest
Multi-System Youth Toolkit
Our team at Ohio Colleges of Medicine Government Resource Center has compiled a Multi-System Youth Toolkit, which can be accessed here: https://grc.osu.edu/Projects/SOC-MSY-ECHO.
Systems of Care Project ECHO for Multi-System Youth - Case Referral, Presentation and Recommendations Process
Family and Children First Council (FCFC) coordinators may refer a case for consultation during a Systems of Care Project ECHO for Multi-System Youth session to the Family and Children First Regional Liaisons, Aimee.Matusik@jfs.ohio.gov 
and Jennie.Horner@jfs.ohio.gov)
Evaluation Summary
The FCF Regional Liaison will triage referrals and request that the FCF coordinator complete an ECHO case presentation form for the case selected for presentation. (Click here to download form.) The FCF coordinator contacts SystemofCareECHO@neomed.edu for information about a secure pathway for sharing the case information with the SOC ECHO experts. Individuals are welcome and encouraged to attend all ECHO sessions, not just those at which they are presenting a case.
For more details and current/archived Program Schedules see Ohio System of Care Project ECHO Schedule.
On July 1, OhioRISE will begin to provide coordination and specialized services to help children and youth with behavioral health needs who receive care across multiple systems.
Mental Health Awareness 
Each year, millions of Americans face the reality of living with a mental health condition. However, mental illness affects everyone directly or indirectly through family, friends or coworkers. Despite mental illnesses' reach and prevalence, stigma and misunderstanding are also, unfortunately, widespread (NAMI, 2020). 
The Impact of Stigma on Substance Use Disorders
David L. Nalls, ASB, CDCA, QMHS, CPI, PRS
Community Health Worker, MED-Connections
Buckeye Health Plan
The social stigma that houses fear and reluctance for people with substance use disorders, has been rooted in the lack of individual, organizational, judicial, medical, social and civil institutions knowledge of the condition.  Many of them continued to enforce rhetoric and or business functional protocol that challenges moral systems and not address the medical condition that substance use disorders produces.
To really get serious about stigma is to become serious about discrimination.  There is a prejudice that looms in the undertone of words used to define a person with an SUD. Stigma hinders the progress of individual growth in the sight of society and is the backdrop of some treatment agencies.  The policies created by governmental agencies to help individuals with SUDs are hindered in their efforts to build policies that assist with reintegration and recovery.  Polices that support individuals moving from benefits into work, from stagnation to flourishing.
Substance Use Disorder is largely coupled with criminal activity, however not all people living with this disease engage in criminal activity. The vacuum of stigma has created a stereotype that keeps people entrenched in the problem by tagging a host of slanderous labels that dehumanizes character.  Addict alcoholic, junkie, crack head, meth head and dope fiend have caused considerable damage in communities abroad. These labels can cause a great fear and that fear prevents people from seeking help.  The following settings have unwittingly perpetuated the promotion of stigma:
Drug and Alcohol Treatment Centers
Pharmacies
Hospitals –(staff)
Dentists
Social Services
Employment
Housing
Criminal Justice Systems.
Stigma has a broad base, it has had a major impact in treatment and the labels reinforce the negative views of the masses.  It is evident, without reconstruction of social education concerning SUD individuals will continue to be treated as a problem with a person and not a person with a problem.  Any suggestion that drug users deserve compassion and care rather than punishment and control threatens to undermine system of social acceptance created at the expense of individuality.
We have scientific evidence today that SUD is not a moral problem but a medical condition that cannot be managed simply with a moral compasses.  Although choices have an impact on individual growth and change, the process is different in everyone.  Words matter, if you what to help someone grown in life treat them as a person and not a problem; speak with care, compassion and let it all come from the heart.
"Today, I am challenging those of us who work within this special ministry to be more assertive in sharing the transformative power of recovery with all those we encounter socially and professionally and to share the privilege we have experienced as a guide and witness to such transformations. The public is constantly bombarded with addiction's bad news; it's time we shared with them the good news of recovery. Each time we introduce ourselves and what we do to a new acquaintance stands as a potential community and cultural intervention. We too are the faces and voices of recovery–regardless of our recovery status." William L. White
References:
William L. White – Blog & New Postings
Suicide prevention has been named a national priority and much work has been done to review existing evidence and to identify gaps in how our nation's mental health and health care systems address this public health challenge. However, less attention has been paid to the integration of suicide prevention into primary care settings. The Association of Clinicians for the Underserved (ACU) worked with partners to develop and deliver training to prepare primary care teams to better meet the needs of patients at elevated risk for suicide.
The Suicide Safer Care program was created to train primary care providers and their teams on basic principles of suicide prevention and skills for integration into practice. The trainings provided a comprehensive, skills-based learning opportunity that offered "hands on" strategies that could be used with patients during a primary care visit. Skills developed through the training included identification of patients at risk, conducting risk assessments using a standardized tool, and brief evidence-based interventions including strategies for reducing access to lethal means, and safety planning.
Helpful Behavioral Health Materials for Download
---
Ohio's Opioid crisis, Cleveland Now
Video - Opiod Addiction - Looking for Signs
Laura Paynter, MA, PCC-S, CCM, ACHE
Sr. Director of Behavioral Health
Opioid PSA #1
Video - Learning the Signs
Laura Paynter, MA, PCC-S, CCM, ACHE
Sr. Director of Behavioral Health
Opioid PSA #2
Video - Learning the Signs
Laura Paynter, MA, PCC-S, CCM, ACHE
Sr. Director of Behavioral Health