2021 Community Impact Report - Our Communities Our Commitment
During the COVID public health emergency in 2021, Buckeye's Health Plan joined with community agency partners and Ohio's other Managed Care plans to vaccinate nearly 1 million underserved Ohioans. Together with local pharmacy and retail partners, we created hundreds of local events to bring vaccination into areas of greatest need.
Buckeye's preventative health programs provided our members with comprehensive information about how to take care of their health and why it is so important to visit their doctor each year – in person or via telehealth.
To learn more about Buckeye's many contributions to the health of our communities, please see our 2021 Community Impact Report.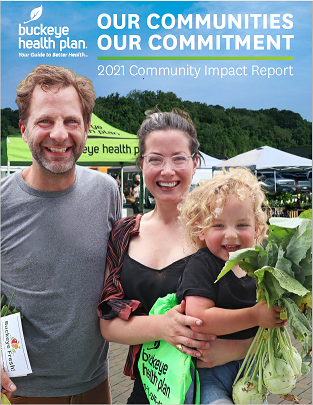 COVID-19 Community Partner Survey
During the COVID-19 crisis, community organizations across the State continue to serve on the front lines every day to help those in need in our local communities.
Buckeye recently asked our community partner network what their organizations are doing to help the community during the COVID-19 crisis. Partners across the state shared creative ideas and best practices related to direct outreach during these challenging times.
Learn from partners in your region and across the State. Survey results are broken out by region: