Healthcare for every stage of life to serve all Ohioans.
Buckeye offers a range of health insurance plans to meet our members' unique needs in every stage of life. Plan eligibility depends on age, income, family size and any special health needs.
Medicaid
Buckeye provides coverage to qualified adults and children; eligible aged, blind and disabled persons and children within the foster care program. Potential members enroll through the Ohio Department of Medicaid and are required to renew their benefits annually.
Available in all 88 Ohio counties.
Visit the home page of our Medicaid plan.
---
Combined Medicare and Medicaid
MyCare Ohio is a dual-eligible program that contracts with both Medicare and Ohio Medicaid in 12 counties. Qualified enrollees of the Medicare-Medicaid Plan (MMP) receive healthcare benefits of both programs from one single health plan.
Available from Buckeye in the following counties: Clark, Cuyahoga, Fulton, Geauga, Greene, Lake, Lorain, Lucas, Medina, Montgomery, Ottawa, Wood
---
See our website page for details on our plans and counties.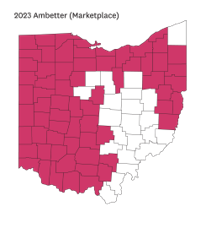 Marketplace
Ambetter is a qualified health plan on the Ohio Health Insurance Marketplace. Member plan options vary between costs for monthly premium payments versus out-of-pocket expenses. Subsidies are dependent on member's income level.
Available from Buckeye in the following counties:
Adams, Allen, Ashland, Auglaize, Belmont, Brown, Butler, Carroll, Champaign, Clark, Clermont,, Clinton, Columbiana, Cuyahoga, Darke, Defiance, Delaware, Erie, Fayette, Franklin, Fulton, Geauga, Greene, Hamilton, Hancock, Hardin, Harrison, Henry, Huron, Jefferson, Lake, Logan, Lorain, Lucas, Madison, Mahoning, Medina, Mercer, Montgomery, Morrow, Ottawa, Paulding, Pickaway, Portage, Preble, Putnam, Sandusky, Seneca, Shelby, Stark, Summit, Trumbull, Union, Van Wert, Warren, Wyandot, Williams, Wood