Behavioral Health Monthly Series
Your brain functions best when it gets only premium fuel. Eating high- quality foods containing lots of vitamins, minerals, and antioxidants nourishes the brain and protects it from oxidative stress. Multiple studies have found a correlation between a diet high in refined sugars and impaired brain function – or even a worsening of symptoms of mood disorders, such as depression.
Harvard Health Nutritional Psychiatry researches the brain on food. In a recent article, they use a comparison of your brain to that of an expensive car -- your brain can be damaged if it ingests anything other than premium fuel.
Buckeye helps our members access 'premium fuel' through these programs:
Buckeye Fresh!:
Buckeye's signature program, Buckeye Fresh!, a healthy food incentive program, has the goal of increasing access to healthy food options. During each Buckeye Fresh! Event, Buckeye members receive $10 in vouchers for free fruits and vegetables at the market. These events also allow children to participate with their own $1 Buckeye Buck and include healthy food samplings, family fun activities and health screenings.
Buckeye Community Connect:  
Our go-to resource for local services and resources that meet our members' needs. By simply entering their zip code, this tool will help locate assistance with food, housing, transportation, jobs and more.
Helping members to eat a diet that is rich in brain food – fish, seafood, beans & legumes, leafy greens and other vegetables, olive oil (monounsaturated fat), yogurt, nuts – can be an effective and relatively simple way to promote mental health and recovery from mental illness that can easily be integrated into health care.
Tips Providers Can Share With Members:
1.     4 Simple Shopping Rules
Shop the perimeter of the grocery store, where fresh foods like fruits, vegetables, dairy, meat, and fish are usually located. Avoid the center aisles where junk foods lurk.
Choose "real" foods, such as 100% fruit juice or 100% whole-grain items with as little processing and as few additives as possible. If you want more salt or sugar, add it yourself.
Stay clear of foods with cartoons on the label that are targeted to children. If you don't want your kids eating junk foods, don't have them in the house.
Avoiding foods that contain more than five ingredients, artificial ingredients, or ingredients you can't pronounce.
2.     Eat to Beat Anxiety and Depression
Whole Grains - Release Serotonin, a mood-boosting neurotransmitter.
Lean Proteins - Amino Acid Tryptophan (building block protein) can help boost mood and reduce irritability.
Wild Cold Water Fish - High in Omega 3 fatty acids, may reduce symptoms of depression, postpartum depression, schizophrenia, and ADHD
Leafy Greens - High is folic acid and other B vitamins, which can reduce systems of depression, fatigue and insomnia.
Dairy and Active Cultures – Rich in calcium, Vitamin D, whey protein, which help reduce fatigue, repair cell damage, stabilize mood, and promote feelings of well-being.
Multi-Vitamins – Deficiencies can cause or aggravate many neurological problems and some mental illnesses.
Chocolate - Small amounts of dark chocolate can affect the levels of brain endorphins-feel-good chemicals produced by the body.
Buckeye Member Services can provide additional information on any of the above resources. Member Services Representatives can be reached at 866-246-4358 Monday - Friday from 8:00 a.m. – 5 p.m.
References:
Source: Harvard Health Blog Nutritional Psychiatry: Your Brain on Food by Eva Selhub MD. Retrieved on 03/07/22.
Source: Food, Mood, and Brain Health: Implications for the Modern Clinician Retrieved on 03/07/22
Source: Eat to beat anxiety and depression Retrieved on 03/07/2022
Source: 10 tips for healthy grocery shopping.   Retrieved on 03/07/2022
Having a seat at the table is vital to ending social isolation in youth and creating a culture of belonging. That's why Buckeye Health Plan is so excited that students in Ohio are participating in National No One Eats Alone® Day, a program created by nonprofit Beyond Differences® to combat social isolation and help students get to know one another and make everyone feel welcome and accepted.
In December 2021, Surgeon General Vivek Murthy issued an advisory to highlight the urgent need to address the nation's youth mental health crisis. The Surgeon General stated that "The COVID-19 pandemic further altered their experiences at home, school, and in the community and the effect on their mental health has been devastating. The future wellbeing of our country depends on how we support and invest in the next generation."
The theme for the No One Eats Alone (NOEA) 2022 curriculum is True Belonging, inspired by the work of Brené Brown and her quote, "True belonging doesn't require us to change who we are; it requires us to be who we are."
With in-class lessons, interactive exercises and a creative art project that asks students to illustrate their pledge to make their school more welcoming and accepting for all students, No One Eats Alone Day gives students the tools they need to be social isolation disruptors and ambassadors of belonging.
The No One Eats Alone program aligns with Buckeye's vision to transform the health of our communities, one person at a time.  Buckeye is committed to helping Ohio students learn skills that they can use to make friends, build self-esteem and healthy relationships now and into the future. On February 24, 25 and several dates in March, Buckeye Health Plan is partnering with 13 schools statewide to bring a virtual No One Eats Alone day to thousands of children throughout Ohio.
A.J. Rickoff


Harvey Rice Wraparound


McGregor Intermediate School


Steamm Academy @ Hartford


Crenshaw Middle School


Daniel E. Morgan


Orchard Park Academy


KIPP Columbus


Ruskin Elementary


Snyder Park


Pleasant Hill Academy


Midway Elementary


Glenwood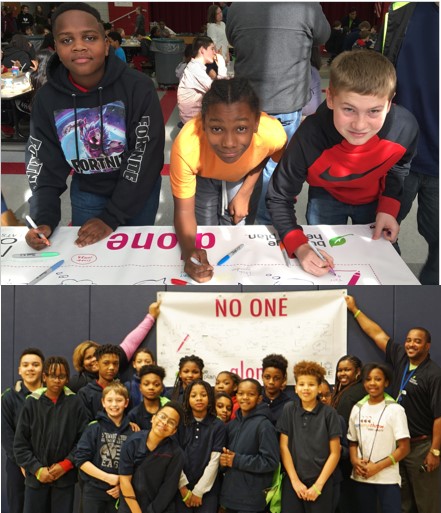 Holidays give us all the expectation of warmth, peace, and celebration with family and friends.  We think of gathering and sharing our love and happiness. However, the reality is that the time leading up to the holidays is often spent trying to create the ideal holiday for those around us, and that can cause a great deal of stress.  We may follow a close budget and find that getting gifts for everyone on our list is straining the limits of that budget. In wanting to put out a fabulous spread of food and share goodies with family, coworkers, and friends, we stretch our budgets a bit more, and give ourselves hours of extra work in cooking and baking. We add hours of decorating, shopping, and gift wrapping. Often, by the time the day of the holiday arrives, we are tired, irritable, worried about finances, and nervous about spending time with family members. Holiday stress is real, so how can we turn things around to have a good holiday without giving in to all of the stress that can come along with it?
One way we can cope with holiday stress is to be prepared with ways we will prevent falling into stress-inducing behaviors.  For instance, if finances are a stressor at holiday time, consider a gift exchange or a white elephant exchange.  Some groups agree to create homemade gifts for each other, as well. These can be fun ways for everyone to only have to come up with one gift while having fun with the actual gift exchange on the day of the holiday.  Check online for great ideas for gift-giving.
The next way we can cope with holiday stress is to be realistic about our time and resource availability for completing holiday activities.  When our days are already very full considering time at work, after-work activities involving family members, and completing household tasks, the idea of adding many more tasks might fill up schedules too much.  Consider some prior planning for holiday decorating, baking, and shopping.   It may be helpful to scale down these activities so that the house can be decorated, some sweets can be baked, shopping can be completed, and cooking can be done, while leaving time for rest.  Consider making the meal a collaborative one for which the host creates the main dish and other attendees bring appetizers, sides, or desserts.  Be sure to not sacrifice healthful activities to make time for holiday preparation. Continue to prioritize time for enough rest, exercise, and proper daily nutrition.  Be sure to take breaks to breathe deeply and allow the body to relax. A focus on self-care can contribute to a relaxed, fun, and successful holiday with family and friends.
Finally, it is important to monitor for increases in anxious feelings, persistent feelings of stress, and worry over how the holidays will play out.  If some people already know that they experience a stress or anxiety related health diagnosis, this may be time to ensure counseling sessions are kept, medication regimens are followed carefully, and self-care activities are practiced daily.  If people begin to feel new stress or worry that feels very difficult to cope with, it is important to consult with a mental health professional to have some support in dealing with those feelings. 
The holidays can be a stressful time for everyone. A few changes in the way we do things can make a difference and reduce stress. Shifting of priorities to include regular activity and focus on self and family is helpful.  Thoughtfully planning ahead can give a roadmap to follow so that all gets done without being overwhelming.  Careful attention to self-care can ensure that we all have the resources to get everything done and still be able to enjoy ourselves.  When these few adjustments are made, the holidays can be a relaxed and happy time for all.    
Depression is more than just feeling sad or going through a rough patch. It's a serious mental health condition that requires understanding and medical care. Left untreated, depression can be devastating for the people who have it and for their families. Fortunately, with early detection, diagnosis and a treatment plan consisting of medication, therapy and lifestyle choices, many people do get better.
An estimated 16 million American adults—almost 7% of the population had at least one major depressive episode in the past year. People of all ages and all racial, ethnic and socioeconomic backgrounds experience depression.
Source: Nami.org/Learn-More/Mental-Health-Conditions/Depression
Common symptoms of depression include:
Changes in sleep or appetite
Difficulty concentrating
Loss of energy
Lack of interest or pleasure in doing things
Feelings of low self-esteem or self-worth
Hopelessness, helplessness
Physical aches and pain
Treatment can include any one or combination of:
Psychotherapy including cognitive behavioral therapy, family-focused therapy and interpersonal therapy
Brain stimulation therapies including electroconvulsive therapy (ECT) or repetitive transcranial magnetic stimulation (rTMS)
Light therapy, which uses a light box to expose a person to full spectrum light and regulate the hormone melatonin
Exercise
Alternative therapies including acupuncture, meditation, and nutrition
Self-management strategies and education
Mind/body/spirit approaches such as meditation, faith, and prayer.
Resources:
1. National Depression Screening Day is October 8th. The link below takes you to a Depression Screening through Mental Health America. 

2. myStrength
A resource available to all Buckeye members and providers includes myStrength. MyStrength is a free online tool available 24/7 from your computer or mobile device. It offers personalized resources to improve mood. Learning to use myStrength's tools can help overcome the challenges in day to day life.
myStrength offers:
Hundreds of wellness resources
Self-help tools
Online health trackers
Personalized activities
Uplifting daily quotes
Members can sign up today by visiting app.myStrength.com/signup/epc/ohio
As a provider you can create a Professional account and make member referrals to myStrength.
To set up an account:
Log on to myStrength
Enter access code: OHProvider
What do you get with your professional account?
Homework handouts and referral materials
Newsletters with clinical updates and resources
Tips on how to use myStrength with people you serve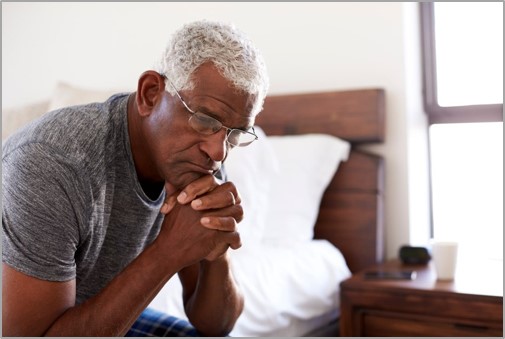 Over the last two decades, suicide rates have risen 33 percent, leading to a public health crisis. Suicide is the tenth highest leading cause of death in the United States, with nearly 48,000 people dying annually. 
Older adults have among the highest rates of suicide, with nearly 5-10 percent having suicidal thoughts, which increases to 30 percent when diagnosed with depression. Aging can create physical and mental changes that may make life more challenging as they cope with an inability to drive, decrease in leisure activities, reduced social networks and isolation. Additionally, cognitive deficits and physical illness, especially those with malignant cancers, are twice as likely to complete suicide.
Did You Know
Research has shown that older adults are more likely to die from suicide attempts due to choosing more lethal means. One in four older adults that attempt suicide die, compared to one in two hundred for young adults. 
The actual number of completed suicides for older adults is believed to be roughly 40 percent higher than reported, due to silent-suicides; often caused by medication overdoses, self-starvation, and accidents.  
Approximately 25 percent of rural Americans are 65 and older and experience significantly higher rates of suicide. They have greater access to firearms, higher rates of substance use, and less access to health care services and prescription filling.
White men in the U.S. have the highest rates throughout the lifespan and peak in the oldest age group with nearly 45 suicides per 100,000 per capita annually, nearly four times the nation's age-adjusted rate at 11.5 suicides per 100,000.
Elderly suicide prevention initiatives tend to focus more on women, even though more males complete suicide.


What can Providers Do?
Primary care providers can play a pivotal role in reducing suicide rates among older Americans. Reported rates of suicidal ideations are higher among patients in primary care settings, where it provides a less stigmatizing pathway for patients to initiate care and services for those experiencing suicidal ideations or mental health disorders.
Researchers have found that 45 percent of older Americans who completed suicide had visited their primary care physician within 30 days preceding their death, compared to only 20 percent seeing a mental health professional. 
Older adults are less likely to seek treatment from mental health care providers, but tend to have established relationships with primary care providers, where they may feel comfortable disclosing mood changes.
Primary care providers need to collaborate with local mental health authorities to establish referral pathways, in addition to advanced training opportunities to better detect the signs and symptoms of mental health disorders and suicide earlier.         
If you have a patient that you feel needs assistance, you or the member can contact :

Call Substance Abuse and Mental Health Services Administration (SAMHSA) at 1-800-662-HELP (4357) or visit FindTreatment.SAMHSA 
Buckeye Member Services at 866-246-4358 to find an addiction medicine professional and local resources for support.
How is Buckeye Helping?
Buckeye's Behavioral Health services connects members to behavioral health services and offers support on a wide range of mental health and substance use disorders; including anxiety, depression, bipolar disorder, substance abuse and more.
Buckeye provides:
Access to a network of providers, hospitals, mental and substance abuse programs
Care Managers who partner with providers to help coordinate care
Coordination of treatment and services, including hospitalization
Assistance with questions or concerns involving behavioral health
Buckeye Community Connect: an online tool that quickly and easily connects community members to community services and resources.
Sources:
The Centers for Disease Control and Prevention, 2021
Hogan & Goldstein Grumet, 2016
Downing, Caprio, & Lyness, 2013
Sorrell J.,  2020
Conwell, Van Orden and Caine, 2011
Raue, Ghesquiere, & Bruce, 2014
---
National Alliance on Mental Illness
The National Alliance on Mental Illness (NAMI) of Ohio was founded in 1982 by a group of family members who wanted to provide support, education, and advocacy for people who are impacted by mental health disorders. Locally, NAMI has 39 affiliates who serve most of Ohio's counties.
Advocacy
NAMI is active in many arenas in their advocacy, such as:
Public policy and legislation regarding care for people with serious mental illness
Testifying before the General Assembly
Educating business and other community leaders
Holding state planning and advisory committee positions.

Support Groups & Programs
NAMI also has support programs including:
NAMI connection and family and caregivers support groups, which are weekly/monthly groups for people and family members living with a mental health condition.



Youth and Family focused:

Parent Advocacy Connection (PAC) is a grassroots organization of trained parent advocates who reflect the cultural and ethnic make-up of the families they serve.
YouthMOVE Ohio is a youth led organization devoted to improving services and systems to support youth inclusion, mental wellness, positive supports and healthy transition.
Ending the Silence is an in-school presentation designed to teach middle and high school students about the signs and symptoms of mental illness, how to recognize the early warning signs and the importance of acknowledging those warning signs.

Education programs
NAMI Basics: for newly diagnosed or people having symptoms
Family-to-family: for families, partners and friends of those with a mental health diagnosis
Homefront for families, partners and friends of military service members and veterans to understand the challenges they are faced with
Peer-to-peer: a recovery based education course open to anyone experiencing a mental health challenge
Crisis Intervention Training (CIT): for law enforcement. Consists of 40 hours of training in areas including:

Psychiatric disorders
Substance abuse issues
De-escalation techniques
Legal issues related to mental health and substance abuse. 

Empathy training from individuals with mental illness and gain exposure to the views of family members of those suffering from a mental illness.National Alliance on Mental Illness (NAMI)
For more information go to NAMI in Ohio.
Substance Abuse and Mental Health Services Administration 
The Substance Abuse and Mental Health Services Administration (SAMHSA) is the agency within the U.S. Department of Health and Human Services that leads public health efforts to advance the behavioral health of the nation. Their mission is to reduce the impact of substance abuse and mental illness on America's communities. Programs and campaigns offer information, training, and technical assistance to improve the quality and delivery of behavioral health services across the nation.
Contact SAMHSA for more information.

Mental Health America MHA
Mental Health America is the nation's leading community-based nonprofit dedicated to addressing the needs of those living with mental illness and to promoting the overall mental health of all.  MHA's work is driven by its commitment to promote mental health as a critical part of overall wellness, including:
Prevention services for all
Early identification and intervention for those at risk
Integrated care, services, and supports for those who need them
With recovery as the goal
MHA's programs and initiatives fulfill its mission of promoting mental health and preventing mental illness through advocacy, education, research and services. MHA's national office and its 200+ affiliates and associates around the country work every day to protect the rights and dignity of individuals with lived experience and ensure that peers and their voices are integrated into all areas of the organization.
Contact MHA for more information. 
Psychotic and schizophrenia spectrum disorders are hallmarked by an individual's loss of connection with reality and can include symptoms of hallucinations, delusions, disorganized or abnormal thinking, speech, and behavior. These symptoms make it difficult for an individual to recognize what is and is not real. Symptoms typically present gradually and family and friends may be the first to recognize behavioral changes. Fear, confusion, and paranoia are often factors that prevent an individual from getting support. Stigma and misinformation about the prognosis for these conditions also perpetuates the myth that individuals with these disorders cannot live full, meaningful lives. Early intervention is critical and can help to change the course of the illness and ultimately an individual's quality of life.
Who is affected?
Psychosis can impact both men and women regardless of race or socio economic status. Males tend to present with symptoms earlier than woman, usually in their late teens/early twenties compared to women in their twenties/early thirties.
What are the risk factors for illness onset?
Family history, trauma, substance use, physical illness or injury, environmental factors/stressors
How does the illness present?
The symptoms are likely to impact an individual's daily functioning and interactions with others. These may include: difficulty concentrating, changes in self-care, changes in sleep habits, isolation from others and lack of interest in usual activities, changes in academic or work performance, speech or behaviors that are confusing or seem odd, substance use, and changes in emotional expression – including being overly expressive or not react appropriately to situations.
What is the recommended treatment?
Best practices in treatment recommend a wraparound approach of intensive case management, medication management, psychotherapy, and family education and support. Peer support services and vocational rehabilitation are also advocated as adjuncts to clinical services.
How can you support your patients with these diagnoses?
A thorough evaluation of family history and obtaining collateral information from family or caregivers is important to screening for these conditions. Psychoeducation about the illness, treatment, and prognosis can dispel myths and help patients and families engage in treatment sooner and more fully.
How does Buckeye serve this population?
Buckeye has developed the BuckeyeSpectrum program to serve our members with a Schizophrenia Spectrum Disorder diagnosis and help them to achieve the highest levels of wellness, functioning, and quality of life. Buckeye is preparing to launch this program in 2021. The program is centered on provider collaboration and promotes healthy lifestyles by focusing on prevention, education, and support. This program is a true partnership with providers and a significant opportunity to better address our member's health needs as well as SDOH factors that may be a barrier to healthcare access and wellness. For more information about this program or to refer your patients, you can contact Laura Paynter at lpaynter@centene.com.
References:
National Alliance of Mental Illness: Psychosis. Retrieved electronically April 16, 2021. 
Predictive Factors in Early Onset Schizophrenia: Authored by Magdalena Budisteanu et al. October 14, 2020. Retrieved electronically April 16, 2021. 
June is Post Traumatic Stress Disorder (PTSD) awareness month. Most people know what PTSD means at a high-level – distressing reoccurring symptoms after one or more frightening incidents. To diagnose PTSD, physicians look to the following criteria:
For the most part, a person with this disorder must have directly experienced the event, or witnessed the event in person.
The person may also have learned about violence to a close loved-one.
The event must have involved serious physical injury or the threat of serious injury or death.
According to the definition, PTSD symptoms must last for at least one month and must seriously affect your ability to function normally at home, at work or in social situations.
Some examples of traumas include: military combat, serious motor vehicle accidents, plane crashes, industrial accidents, natural disasters, robberies, muggings, rape, child abuse, political torture, and refugee status. While this is a broad list, there are many other events that lead to trauma. Most recently, COVID-19.
An article in the Harvard Medical School journal in September 2020, stated that physical assault and rape are the most common stressors causing PTSD in women. Military combat is the most common PTSD stressor in men in the United States. Up to 3% of all people in the United States have full-fledged PTSD in any given year. Up to 10% of women and 5% of men have PTSD at some point in their lifetime.
Symptoms
Some symptoms include intrusive mental images, thoughts or upsetting dreams related to the traumatic event.
Having marked anxiety and physical distress such as shortness of breath, dizziness, palpitations, sweating.
Being unable to remember important details about the trauma.
Persistently blaming oneself or others for the trauma.
Feeling detached or disconnected from other people.
Believing that your life will be shorter than originally expected, or being constantly on guard against danger and feeling easily startled.
Recent studies find that since COVID-19 hit the United States, physicians report that while the physical stress of infection might end, COVID-19 patients can carry emotional scars from the experience for months and years, often in the form of PTSD.
Even after recovery, people may experience lingering effects due to:
A fear of dying.
Social isolation from the time spent hospitalized or in quarantine.
Anxiety at the thought of getting sick again.
Guilt over infecting or harming others.
Age does not seem to be a factor. Although, studies indicate that children might be at higher risk of PTSD during and immediately after a pandemic.
Treatment
PTSD is a treatable condition and most people will benefit from medication and/or psychotherapy that can help them understand their traumatic experience and regain control over their symptoms. These treatments have been very helpful. Even without formal treatment, many people receive the support they need to make a successful adjustment as time puts distance between them and the traumatic event.
Additional steps COVID-19 PTSD patients can take includes:
Reaching out to talk to someone, either a professional or a loved one.
Taking steps to protect yourself against COVID infection. This includes wearing a mask in public and washing your hands.
Generating a sense of personal calmness. Avoid news reports if they trigger anxiety.
Exercise or try yoga or deep breathing exercises.
Stay connected. Use technology or find creative and socially distant ways to stay in touch with family and friends.
If you would like more information about PTSD, you can reach out to:
Sources: Hartford Healthcare.org
Mental Health Awareness Month raises awareness and educates others about mental health conditions and services. Even before COVID-19, the prevalence of mental health conditions in the U.S. was on the rise. In 2019, nearly 52 million adults experienced some form of mental illness.
Since the onset of COVID-19, one in four adults reported experiencing symptoms of an anxiety or depressive order in February 2021 according to the CDC. This is a significant increase from previous years. According to NAMI.org, 1 in every 20 adults is living with a mental health condition such as schizophrenia, bipolar disorder or long-term reoccurring major depression.
People living with mental health conditions should be treated with compassion, respect and understanding. Too often they feel they have nowhere to turn. Reports indicate that suicide is the tenth leading cause of death in the United States and the second leading cause of death for our nation's youth. It's also reported that suicide rates are disproportionately high among Black youth, and LGBTQI+ persons. Those in need of help can call the National Suicide Prevention Lifeline at 1-800-273-TALK or call 1-800-662-HELP. 
Buckeye Health Plan is devoted to working with behavioral health physicians, counselors, social workers, and case managers to assist with mental health conditions. Individuals can achieve wellness when they are empowered with education about their diagnosis, effective treatment, and the support of peers and family.  
Buckeye continues to work on key Behavioral Health Initiatives:
Behavioral Health cell phone program – We provide cell phones to members with high ER or IP utilization
Community Rounds – Buckeye Medical staff members participate in BH rounds for children in Cuyahoga County
Everlywell – Buckeye partners to provide in-home lab testing to meet BH HEDIS measures
Buckeye Spectrum – This new program focuses on members who have a diagnosis of schizophrenia.
Depression Disease Management – Buckeye's program provides care management and support services to engage members who have major depression
Pathlight – This program partners with VPA.   Nurse Practitioners provide care management for members who have multiple co-morbidities and work with an established behavioral health provider.
New Leaf Program – Pregnant members who have a SUD diagnosis receive help with resources and medication assisted treatment during and after pregnancy.
Be sure to watch our short, but inspiring, three-minute video about Buckeye member Vivian and her return to wellness and independent living after learning how to manage her depression with help from Buckeye Health Plan.
Autism is a pervasive developmental disorder that affects children in all areas of the world, and presents significant challenges to children and their families. Considering the knowledge that autism affects children around the world, on December 18, 2007, the United Nations General Assembly passed a resolution to establish a World Autism Day.
April 2, 2021, marked the 14th annual World Autism Awareness Day that kicks off Autism Awareness Month. During this month activities and education events are shared with the public to raise awareness of the realities of autism. In addition to increasing awareness, the activities provide opportunities for people to learn how to create events that are inclusive of individuals with autism spectrum disorder diagnoses.
What is Autism Spectrum Disorder (ASD)?
A pervasive (widely spread) childhood developmental disorder
Characterized as a developmental disorder because the symptoms usually appear in the first two years of a person's life.
The word "spectrum" is included because the type and severity of symptoms people experience can vary widely on a spectrum from very high-functioning to in need of assistance with multiple challenges.
What are common symptoms of Autism?
People with ASD think, behave, learn, communicate, and interact differently than those without the disorder.  Depending on the presentation and placement on the spectrum symptoms can vary. The core symptoms of autism are social communication challenges and restricted, repetitive behaviors.

Social communication challenges include:

Spoken language (around a third of people with autism are nonverbal)
Feeling overwhelmed in social situations
Gauging personal space (appropriate distance between people)

Restricted and repetitive behaviors include:

Repetitive body movements (e.g. rocking, flapping, spinning, running back and forth)
Repetitive motions with objects (e.g. spinning wheels, shaking sticks, flipping levers)
Need for unvarying routine/resistance to change (e.g. same daily schedule, meal menu, clothes, route to school)
The pervasiveness of Autism has increased efforts to find treatment, therapies and interventions that teaches skills to help them succeed in the community and educational system. Depending on the presentation and placement on the spectrum, treatment of ASD can vary.
Learn what bullying is, how you can recognize it and steps you can take.
What is bullying?
Bullying is serious and includes unwanted aggressive behaviors, observed or perceived power imbalance and repeated behaviors over time.
What is the impact?
Research shows bullying not only affects those who are bullied, but also those who bully and those who witness it. Roughly 20% of students between the ages of 12-18 have experienced bullying within the past 12 months on school property and less than half the children tell an adult at school. It can impact:
Mental and physical health and educational performance.

According to www.nobullying.com, nearly 160,000 bullied students miss school each year which leads to 1 out of 10 students dropping out of school.
Studies show that kids who experience bullying are more likely to have poorer academic performance and decreased class participation.

Bullied children often report physical and mental health concerns including headaches, stomach aches, depression, anxiety, difficulties sleeping and even thoughts of suicide.
The impact of bullying often continues into adulthood.
What to look for?
You can play a critical role in preventing and responding to bullying. Recognizing the following warning signs is key:
Unexplainable injuries
Lost or destroyed clothing, books, electronics, or jewelry
Frequent headaches or stomach aches, feeling sick or faking illness
Changes in eating habits:

Suddenly skipping meals or binge eating.
Coming home from school hungry because they did not eat lunch.

Difficulty sleeping or frequent nightmares
Sudden loss of friends or avoidance of social situations
Feelings of helplessness or decreased self esteem
Self-destructive behaviors such as running away from home, harming themselves, or talking about suicide
What can you do?
Maintain open lines of communication by asking questions about school and their friends and help children understand what bullying is through education.
Let children know that bullying is unacceptable and help them identify trusted adults they can talk to with any concerns.
Share the SYSC video (explained below) with at-risk students.
Review Ohio's anti-bullying laws in addition to federal laws that provide protections from harassment based on race, color, national origin, sec and disabilities.
What is Buckeye doing to help?
No One Eats Alone
Buckeye and our parent company Centene partner with Beyond Differences to bring No One Eats Alone Day to schools throughout Ohio as part of a national effort to end social isolation and promote inclusion for children who feel left out or that they don't belong. 
Social isolation is a pre-cursor to bullying and can happen anywhere. It occurs anytime students feel misunderstood, left out, or alone. It especially affects those who are seen as "different" because of their appearance, race, disability, ethnicity, sexual orientation, gender identity, religious beliefs or any other reason that makes them seem "different." 
Through in-school activities led by students, No One Eats Alone Day promotes acceptance and inclusion by encouraging students to make friends with classmates who are eating alone.  Schools that have a culture of inclusion have far fewer instances of bullying, self-harm, and community violence.
Strong Youth Strong Community
Buckeye Health Plan, along with Centene, our parent company, also partners with Strong Youth Strong Communities (SYSC℠).  As we shared in our February issue, SYSC is an excellent opportunity for young people ages 13-19 to find support and learn development skills.
During our Ohio virtual Summit last year, Iman McFarland, who is one of our SYSC ambassadors and a former athelete, spoke about her experience being bullied as a child/teen. She shares her tips on how to be FLY. 
National Eating Disorder Awareness Week for 2021 is February 22-28.
National Eating Disorder Awareness Week for 2021 is February 22-28. The National Eating Disorders Association (NEDA) estimates ~30 million people will experience an eating disorder at some point in their lifetime. Eating disorders tend to have a high prevalence rate of co-occurring diagnosis such as anxiety, depression and substance use disorders.
There are a range of onset factors involved with these disorders:
1.   Biological
Family history
Genetic predisposition
2.   Psychological
Low self-esteem
Feelings of inadequacy

3.   Cultural norms
Body dissatisfaction
Norms that overvalue appearance
---
Eating disorders can impact people of all:
Genders
Ages
Race
Ethnicities
Body shapes
---
Below are a few of the specific types of disorders.
Anorexia nervosa- restricting intake with intense fear of weight gain.
Bulimia nervosa- characterized by binge eating and purging behaviors.
Binge eating disorder- recurrent binge eating episode without the use of compensatory behaviors.
Avoidant-restrictive food intake disorder- lack of interest in food and fears around food intake.
Other specific feeding or eating disorders that cause significant stress for the individual.
---
The impact on an individual's physical health is significant. Eating disorders have the second highest rate of mortality, only surpassed by opiate use disorders. Of greatest concern include:
Cardiovascular
Gastrointestinal
Neurological
Endocrine
Early intervention can help support individuals through their journey to recovery. Various levels of treatment are available to support individuals from outpatient care through inpatient levels of care. For more information on eating disorders, please reach out for education and engagement supports at NEDA. 
January 2021: Substance Use Disoder
Buckeye Addresses Ohio's Opioid Epidemic
Difference Between Controlled and Illegal Substances
To reduce drug abuse and dependence, there are tight controls on the production, sale and distribution of many drugs.  Illegal substances include "street drugs" such as cocaine, heroin, marijuana, methamphetamine, and Ecstasy/Molly. Controlled substances, are sold legally and include Ritalin and Adderall, pain relievers such as OxyContin and Vicodin, and sedatives such as Valium and Xanax. Controlled substances have been added to Federal Class 1 drug lists due to widespread abuse. When controlled drugs are taken without a proper prescription, it is considered illegal.  These drugs can be easily accessed and illegally purchased online, however.
Differences Between Opiates and Opioids
The poppy plant creates opiates. Opiates are labeled "natural", because nature creates the active ingredient molecules. Common opiates include opium, morphine and codeine.  Both made directly from poppy plants.
An opioid is a substance (molecule) that is synthetic or partly synthetic. This means the active ingredients are created chemically. Opioids act just like opiates in the human body, because of the similar molecules. Common opioids are OxyContin, hydrocodone, fentanyl and others.
Buckeye Battles Opiate Epidemic
Ohio has seen a steady increase in opiate addiction over the past ten years, making it one of hardest hit states in the country. Higher demand for heroin has driven the costs down.  In addition, suppliers have put purer, more potent heroin on the street.
Buckeye has specifically targeted the opiate epidemic with several initiatives:
Care Management Outreach & Engage: the team quickly identifies members with an opiate addiction through weekly claims reviews and uses evidence-based practice techniques to outreach and engage in care management.


Special 'New Leaf' program: identifies members who are struggling with addition during pregnancy and links the member with treatment. Pregnant members who have engaged in our care management prior to birth have better health outcomes including:

lower rates of neonatal abstinence syndrome
lower NICU admission rates and
shorter NICU lengths of stay
Specialized substance use disorder supervision workgroup: which includes 14 team members actively obtaining specialized training and licensure in chemical dependency. Weekly meetings include:

clinical case reviews and presentations
psychopharmacology and MAT presentations
preferred drug list updates
latest trends in use
regional resource sharing
For more information on how Buckeye can help you assist your patients, see our Behavioral Health video given by Dr. Alvin Pelt, Buckeye Health Plan Behavioral Health Medical Director located at the top of the page.