It Can't Wait -- Vaccinate!
Every 20 seconds, a child dies from a disease that is preventable by vaccinations.[1] Don't delay getting your child's vaccinations. They are your child's best defense to fight off disease and prevent others from getting sick.
Buckeye Medicaid members get free vaccinations! Call your child's doctor to find out how to schedule your child's free vaccinations today.
Which vaccinations does your child need?
Knowing which vaccinations your child needs can be confusing. Buckeye is here to help. Use this list of recommended vaccinations to help your baby stay healthy CDC Vaccines by Age.
Is your child overdue for needed vaccinations? Don't wait!
Doctor's offices and local health departments are safe and ready to help your child stay healthy! These places are taking extra precautions to keep patients safe by:
Checking temperatures on all patients
Handing out new masks to all patients
Spacing out appointments, and in some practices conducting well care visits in the morning, and seeing sick children in the afternoon to avoid exposure
Deep cleaning between patients
Offering vaccination only appointments
Earn rewards for keeping your child healthy!
$150 for completing 6 infant well care visits ($25 per visit) by 15 months old (These visits are recommended at 3-5 days old, before 30 days old and at 2, 4, 6, 9, 12 and 15 months old)
$75 in My Health Pays® rewards for children ages 2-11 for getting your well care visit to spend on things you need at Walmart® or Sam's Club® or on rent, utilities and more.
$75 for an annual well care visit (age 12 and up)
$25 in My Health Pays Rewards for getting your child's annual flu vaccine!* (Over 6 months)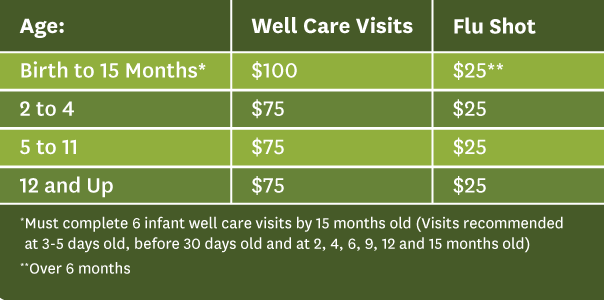 Help your child get ready for their vaccinations
Children may be fearful of getting vaccinated. Help decrease your child's fears of vaccinations by: [2]

Being honest. Explain that they will feel a pinch for a minute, but it won't last long. Calm their fears by sharing that vaccinations keep them from getting sick.
Providing comfort. Bring comfort items like stuffed animals, books, favorite toys to distract and provide a sense of security. Keep your child on your lap. And, offer positive words of encouragement throughout the process.
Staying calm yourself. Set an example by remaining calm, even when your child is not.
​​Children under age 18 who are not emancipated must have parental consent for any vaccine. A parent or legal guardian generally should accompany the minor to receive the vaccine, unless the administration of the vaccine occurs in a physician's office, school-based or school-associated clinic setting or similar setting.
For more information, call Buckeye Member Services at 1-877-505-9568.